the rec.arts.comics.strips pet gallery
page 1

Jump to page 2
Jump to Patches: a Feral Cat's Story and Mooch 2's Story.

r.a.c.s. is a little island of civility in usenet, a comic-strip-fan discussion group which has become a kind of virtual pub for a collection of men and women of good character and dubious wit. Or perhaps it's the other way around.
These are our 'baby pictures'. And here are our weblogs (some comics-related, most not, all interesting).

Enjoy them. And please - don't breed or buy while shelter animals die! (Think it's not that simple? You're right - it isn't. Click here for more thoughts on the issues.)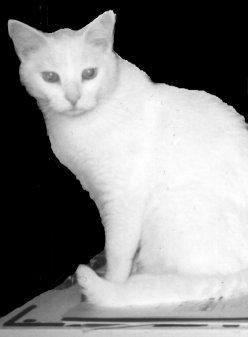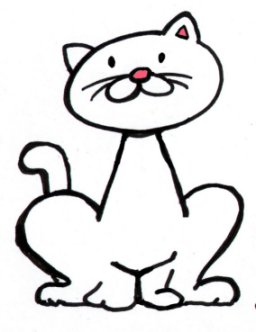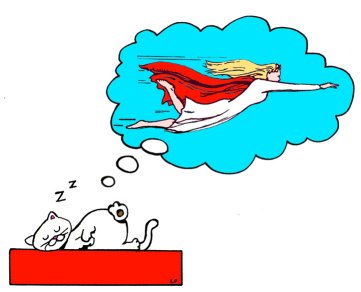 ginger
The Big Picture, a cartoon strip drawn by the multi-talented Lennie Peterson, was kind of a weblog in pictures and featured Lennie's cat, Ginger. A while ago, Ginger became very ill and, in a short time, passed away. Lennie wrote this real-life loss into the strip.
As you can imagine, as Ginger's illness played out in the comic strip, it was much-discussed in our group of cat-loving comic fans. People worried about how it would turn out and whether Ginger would recover. As the story unfolded, we felt that Lennie handled the telling of Ginger's illness and death with courage and grace.
One of the regulars in the group suggested that it would be an honour for us to add Ginger's picture to our gallery as an honourary "r.a.c.s pet" because we all felt so attached to her and her story had affected us all so much. After letting a little time pass, I emailed Lennie Peterson and asked if he would let us add Ginger to our little gallery. He not only agreed, he generously sent along three pictures of Ginger and her fictional alter-ego for us to include. We are very grateful to him for letting us keep Ginger with us in this way. I particularly like the third image; perhaps Ginger's dream of transcending her form and flying has finally come true.
Lennie decided to end The Big Picture after Ginger died. His fans at r.a.c.s understand, if we regret, his decision to end the strip, but we will always be grateful that we got to meet the sassy, opinionated cat that shared Lennie's real and fictional life.
Anne's Animals
Anne Warfield is a longtime r.a.c.s contributor. The picture below of her Lady Jane Gray studying the Escher print is perhaps my favourite of all that have been contributed to the gallery.
random: just possibly the single cutest kitten on earth
The newest addition to Anne's family. "We acquired the new kitten after someone abandoned a box of kittens at Millikin University, where our nephew works. He and his coworkers all took one, but he works two jobs & so he gave us his kitten."

random
"... it took a few days to find a good name for him, but because of his ability to suddenly do anything and everything, he has been named Random."

random & pumpkin
"Uh-oh. I know my place in the pecking order. Honest!"

inquisitor
"No one expects the Feline Inquisition! And nobody can predict what this tortoiseshell cat will do next. Born in June 1999 and adopted in October 1999. Hobbies include knocking things off of tables and desks, playing with the kitty fishing pole, and trying to destroy every piece of paper that comes out of the printer."

inquisitor
Just in case you were wondering why they call her "The Inquisitor".

ace
"Ace is a tabby kitten born in August 1999 and adopted in October 1999. She was a very active kitten and a real cutie. Now grown, her hobbies are napping, looking out the window, and meowing imperiously.".

queenie
"Queenie was born in April 1996 and was a litter-mate of Lady Jane. A gray and orange tabby, she was a very active and playful cat. She died October 8, 1999. Her hobby was bird-watching."

lady jane gray
Lady Jane Gray was born in April 1996 and was a litter-mate of Queenie. She was a gray tabby. After Queenie's death she became Anne's eldest cat and queen of the household. Lady Jane died in 2004 after a long illness.

lady jane gray
Also, clearly, an art lover.
Anthony Myers' Daisy
Anthony is a riddle wrapped in a mystery inside an enigma. And sometimes he's darned funny. Just like Anthony himself, his contribution to the gallery is a little offbeat, and much welcomed.

daisy
"Juan the wiener dog. I also have another one named Jamal.
I was going to send a picture of him too, but most wiener dogs look pretty much alike. I mean let's face it, If you've seen Juan you've seen Jamal.
Ok, I made that up. The wiener dog is really named Daisy. She's almost 20 years old. My dad was the one who named her - after the dog in Blondie."
Antonio Gonzalez' Charlotte
Charlotte popped up by name in r.a.c.s anecdotes so often that she is practically our unofficial mascot. In honour of her longevity and frequency of appearance, I've included three pictures of Antonio's gal.
charlotte


charlotte
BIG-SCREEN BirdTV!

charlotte
I'm sorry, what part of 'belly rub' don't you understand?
Bobcat's Canuck Kitties
Bobcat is one of my favourite r.a.c.s posters, probably because he, along with me, Kate Brown, Dave Brown (no relation - I think), Brent McKee and Andrew Ryan Chang, make up the Canadian Cabal whose duties, among others, are to respond to baffling Canadianisms in "For Better or For Worse", promote Pooch Cafe, and plot world domination. Here are his Canuck Cats.
martha
"A tortie, she is Miss Proper. Also somewhat, uh, full-figured - she overlaps the narrow railing she likes to lie on. She's the sweetest-natured cat we've ever had, and we love her to bits."

emily
"When you go near the bathroom she runs and jumps up on the sink because she wants you to thump her with a roll of paper towelling. A very weird little individual indeed."

bobbie
"Alas, my Internet namesake departed for kitty Valhalla last year, but we still remember his feisty charm. And we still find traces of long white fur around the house."

sophie
"Sophie, our latest, looking mysterious - or sleepy."
Brian's Living Doll
Brian, also knows as "Beefies", is a family man, a funny, smart guy, and a jaw-droppingly-good artist and writer. He's also the author of Mom's Cancer, a brilliant, heartbreaking, funny, moving account of how his family coped with his mother's cancer - together. Not surprisingly, his contribution to the gallery is a particularly special cat, and we're privileged that she is the cause of us to have an example of his art along with his photo and anecdotes about her. I believe his veterinarian friend was correct.
amber
"She was just a few weeks old when a veterinarian friend of ours found her in a field, in a coma. He nursed her back from the brink, but she'd suffered some brain damage and he knew we'd make a good home for a Special kitten. She lacks the grace and balance of most cats but also lacks their aloofness. In many ways she's kind of a very sweet stupid dog."

amber
"She's also not very good at grooming herself, which is unfortunate since she turned out to be a very long-haired tabby who hates being brushed. So once a year, in the spring when the weather turns warm, we take Amber back to our vet friend and he shaves her tangled, matted coat into a "lion cut." For a few weeks afterward she's the most pathetic, trembling, sorry, ridiculous creature ever born. Her bobble head is five sizes too big for her body and she's got a pom-pom stuck at the end of every extremity. The other cats tease her mercilessly--I hear them snicker.

Or perhaps that's me."
Charles' Whitney's Ferocious Megs and her Cousin Argus
Charles volunteers with the SPCA and has been quietly building a nice little menangerie of cats and dogs. I like to think a collection of happy animals makes for a happy home, and he's given a home to quite a few fortunate animals now.
megs
"Here's a picture of my ferocious Airedale, Megs. She may look all cute and loveable with her head seeming to be looking for a gramophone, but don't let that fool you. In her spare time she chases bears, wards off the house from coyote and wild turkey invasions, and pulls back the covers in her master's bed and naps under them. She likes eating cheese, broccoli and lettuce stems, and screen windows."

Megs passed away on April 12, 2007. After a short but very serious illness from which she would not recover, her family made the decision to let her pass away peacefully. From Charles' accounts, she was an independent, unique and loving dog, and she is very much missed.

argus
"Here's a picture of [Megs with] my brother's Bernese Mountain Dog, Argus, who I babysit so regularly that he is a de facto member of my family.

... Sadly, my brother and his fiancee lost Argus recently as well."

jack
"I got a little black cat last August, from the local SPCA where I volunteer. He was something of a sad case, which influenced my decision to adopt him... He had a spark though, and was enthusiastic to see anyone who came to his cage, eager to play and be patted... [When we brought him home] he was less than a kilogram (1 lb. 6 oz), and could fit into the palm of my hand."

jack

"Sadly, his misfortune did not end there, as he had caught a nasty respiratory illness in his last days at the SPCA... and I took a rather unpleasant call from the vet later in the day asking if I wanted to "spend a lot of money to keep him alive" or put him to sleep. We couldn't bear to put him to sleep, so instead I instructed the vet to do whatever was necessary, which involved him being put into an oxygen tent for a few days. He didn't look good, (one of the two vets who worked with him said that he was '80% dead') but eventually he pulled through.

He has been home ever since. He now spends his days bouncing around plants, chasing the other cats (including biting their ears), teasing Megs, and basically trying to eat everything in the house, including donuts, sunflower seeds, yogurt, and anything we give the other animals. That's had an effect on him, and now he weighs almost seven pounds (three kilograms). I present to you: JACK."

jill
"I adopted another little black kitten last October. She's actually a dark brown/darker brown tabby/siamese mix, but appears black so long as she stays out of the sun. She arrived at the SPCA with three of her siblings but had to be separated early on because two of her siblings weren't letting her eat. So she was a tiny three month old kitten alone in a huge cage when I adopted her."

jill
"She's the smartest, friendliest kitten I've ever seen, and I've seen plenty. Since our first black cat was named Jack, we named her Jill."

jack, marshmallow & jill

"Here's another one of three of our four cats (the fourth is camera shy). From top to bottom, Jack (who, as you can see, has gotten quite large in the last year, not many missed meals there), our serial overeating cat Marshmallow (who has missed even fewer meals in her nine years) and Jill."

mark & monica
"Last but not least, in late 2005 I adopted two golden retrievers, a brother and sister from separate litters. Their original owner was going into a retirement community that didn't allow dogs, so he let us take them. In addition to being very flash-reflective, they're friendly, goofy dogs. Here are Mark and Monica."
Chris Clarke's California Crew
Writer, environmentalist, devoted husband and smartass. Of course he owns everything from a rabbit to a guinea-pig.
chris, becky and zeke
Zeke's the furry one. No, the other furry one. Taken in Tucson.

Zeke passed away after a long illness on February 3, 2007. Chris left work to care for Zeke full-time during the latter days of his life, testimony to their incredibly powerful bond and to Chris' love of Zeke.

zeke and harley
"Zeke with his pal Harley, who's grown to about three times the size he is here."

thistle
"The newest family member."
Cynthia's Bengal (and other) Babies
A newsgroup only becomes a social group when a core group of people take the time to become "regulars" - to post, debate, contribute, argue, joke and weigh in. Cynthia has been a "regular" longer than I've even been reading r.a.c.s, and she's helped make r.a.c.s the neat place it is.
sashi
This incredible beauty is a domestic Bengal, full name Spoticaxotica Priya Sashi.

cynthia's sweeties
This is Cynthia's Bengal with her Greyhound.

ming li
Ming li, the Siamese, was almost 15 years old when this photo was taken and was "the grande dame of my bunch".

She was put peacefully to sleep on January 13, 2006,when her kidneys were failing and she was no longer comfortable. "Ming Li was 16 years old," Cynthia wrote. "I'd had her since she was a teeny white kitten with a dark smudge on her nose. If I had had her made-to-order, I couldn't have had a better, sweeter cat."

samwise gamgee mclendon
The newest addition to Cynthia's family arrived at her home on June 26, 2006. "His name is Samwise Gamgee McLendon, and he is an Ocicat kitten from Jordan, Ontario. Since he is 1/4 Abyssinian, Sami looks like a little cougar. He's 3 months old today and is such a sweetie. His sister Claudia loves him, but Sashi is all hisses. She goes all Balrog of Morgoth on the poor baby. I think it will work out though!"
Dann's Asha and Brooke
Dann never met a political discussion he didn't like, and never met a thread he couldn't be persuaded to help drift into a political discussion. He is also unfailingly polite and good-natured, even in the heat of political debate. For this reason, among others, he's one of my favourite - if occasionally one of the most maddening - "r.a.c.s.a.l.s".
asha
"We think Asha is Malamute/Husky with a bit of Greyhound tossed in. It takes about a mile before his pulling instinct settles down."

asha
"We've had him since he was a puppy and I spent about a week sleeping on the floor next to his cage early on to keep the whining down."

brooke
"Brooke seems to be a mix of some sort of short haired retriever and a bit of Husky. No one knows. We aren't sure, but we think she spent too much time confined in an apartment. We lost some furniture in the process of teaching her that chew toys were for chewing and furniture isn't."

brooke
"Unfortunately for feline aficionados, they've also made sure that cats don't get too close to the house. Although last month, one cat did find the one limited space where the puppies couldn't get to its backside and all the pointy parts could be applied in the same direction. We had to make a trip to the vet after that one. These are my puppies. Ignore their size. They are just puppies."
Dave Armour's Doggies
Dave's mostly a lurker but we're hoping to continue to hear more from him. Anyone who lets the pets wash the dishes is true r.a.c.s material. :)
binkie
"that's our 'boy,' binkie a.k.a. binkie bonkers, binkster, mr. binks, binkermeister, Your Bonkership, etc. something of a chick-magnet, if our nieces are any indication. he also seems to believe that all our sticks belong to him, and he passes everything (in both senses), but muddy puddles. sadly, he's started having seizures, although otherwise he retains a rude health and an enthusiasm for woodsy walks."

binkie
"[binkie, shown] engaged in his second favourite activity, assisting with the post-dinner dish-washer pre-wash cycle. circulating this picture is a great way to cut down on unwanted dinner guests if you make a point of putting the pot / dish / utensil AWAY *without* the ensuing dishwasher step, at least until the guests have left."

kona
"kona, green laser eyes and all, straining to get, presumably, at her pot after our most recent xmas dinner. this was the dinner after which His Binkness helped himself to the glass turkey baster from the dishwasher cutlery rack while several allegedly more-intelligent adult animals were cleaning up, & chewed off the tasty tip before anyone noticed."*

kona, binkie & bettys
"kona and binkie and a few of their photoshopping friends at the doggy masseuse's. elaine won some sort of aesthetician service which, i kid you not, included a dog massage and their picture. pity about the carpetting. we call the friends "bettys" after a gender-confused rooster my niece owned."

elaine & kona
"elaine and kona, as a puppy, running up a trail in mill hill park purely to catch up to her alpha 'daddy'. That one's a killer, for me."

hudson
Hudson is named partly after Rock Hudson because, in David's dog-centric home, David "tended at first to think of him as a 'gay' dog"; as well as after one of the characters in Pooch Café and, David realized later, David's mother's middle name ("paging dr. freud to the white courtesy phone"). Hudson's "as-delivered weight in the mid-twenties and his later blood tests confirmed the need for twice-daily insulin injections which has led to the additional nicknames of 'pincushion' and 'dartboard'!"

Dave tells us that Hudson's "eye colour, couch-potato demeanor, and tux-wearing appearance make him something of a chick magnet, though, much like binkie, who remains the cary grant of dogs, despite having considerably more grey around the temples."

*Further to that nasty turkey baster incident, Dave adds, "Veterinary tip, learned following a great deal of shouting, wailing, gnashing of teeth, and a couple of dreadfully frantic phone calls, the last to a v. generous vet who passed on the tip despite the lateness of the hour (on xmas!!) should this ever happen to you: drench a couple of handfuls of cotton balls with gravy and encourage dog to consume. trust me, it's not hard to do. cotton balls supposedly help pad the dangerous item from the insides, and you may even get the thing back! [kidding]." Phone your local vet first, of course, but you can't say the r.a.c.s pet gallery isn't educational!
Emily's Whole-grain Moggie
Emily tells me via a guest book post that she's "lurked in r.a.c.s for years". Given that she's been able to hold her tongue in the face of all our foolishness all that time, I'm guessing she's a pretty wise soul. I'm glad she partially delurked to send me these great photos of her kitties.
kaiser roll
"This is Kaiser Roll. One day about eight years ago, he strolled into the print shop I was then working at, clambered onto a stool next to a running press, and napped. Everyone was impressed because presses are *loud*. I took him to the vet for some snipping, fed him, let him sleep in my apartment for about a week, and I was his."

kaiser roll
"Kaiser Roll was about eight months old at the time and never fully adjusted to life indoors - and I have the scars to prove it! I love the little bastard though. There's nothing like a cat with personality, and KR's personality is mean and cranky. Just like me in the morning before my daily dose of caffeine :) He loves sinks. Pink is not his color. Blue, on the other hand, is.
Ernest's Animal
Ernest describes himself as "more of a lurker at RACS than anything else, although I do post in spurts. But far be it from me to not show off my kittie." Maybe he knows shelter cats are our favourites.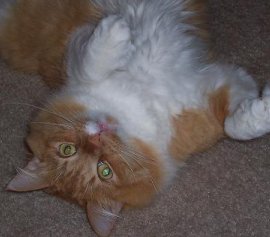 nikki
"I adopted Nikki as an adult cat from the local shelter, oh, about five years ago. He is apparently the reason there are adoption fees for shelter pets. That is, the poor fellow was brought into the shelter after he was found barely alive having been mauled by a dog. The shelter paid to have him fixed up by a vet, and I really couldn't be any happier that they did. I've had more than a few cats over the years, but Nikki will always be very, very special to me."
Eva Whitley's Valentine and Boomer
Eva has contributed so much interesting stuff to r.a.c.s. since I have been reading it. I'm very pleased she finally found the time to send along pictures of her kitty and, uh, grand-iguana.
valentine v. pussyfoot
"Valentine J. Pussycat (on the roof of our truncated car port)."

valentine v. pussyfoot
Another shot of the coy Valentine.

boomer
The family's adorable beagle mix, Boomer.

boomer
Boomer turns on the charm.

boomer & valentine
A really nice shot of Boomer and Valentine together.
Heather Fieldhouse's Bunny Barn
I admire Heather's patient and tireless advocacy on behalf of animals, especially house rabbits, on which she's done much to educate r.a.c.s readers. She not only talks the talk, she walks the walk, and has provided a good home for a wide variety of unusual housepets, as this gallery testifies.
rex
"...our Elder Statesman..."
Rex passed away on Friday, December 1, 2006, at the age of 11 and a half. Heather cared for him for 8 and a half of those years, which made him a very lucky bunny indeed. He will be missed.

hazel
The lady of the house. Hazel passed away in November 2005.

the general
This noble fellow is The General "...best friend to Hazel. Deceased and missed."


snowdrop
Snowdrop is the mama of the babies pictured to the right. Heather notes that "Mice being cursed with very short lives, we lost all of the mice in the gallery long ago."

ivy, poinsettia, holly & mistletoe
"I can't tell them apart in this picture, but their names are Ivy and Poinsettia (females) and Holly and Mistletoe (males)."

goldfish
Phoenix, Kant, Planck, and Tycho Brahe. Heather describes these photos as being "...a representative sample of my mice and goldfish." These are in their winter home, a kiddie pool in Heather's basement.
Henry Spencer's Assistant Network Engineers
Henry is more of a lurker than a poster, but I have great respect for a man who knows the value of a good lab cat.
toby the lab cat
"Of course computers are useful, for sleeping on."

spooky
"Toby's got an understudy." If you can't read the text on the pillow Spooky is sitting on, it reads - appropriately - 'Happiness is being owned by a cat'".
Hope's Nico
Hope's contribution to the pet gallery got misplaced the first time she sent it. What can I do to beg forgiveness but give the beautiful Nico two spots to shine?
nico


nico


yoshimi
The newest member of Hope's family, adopted June 2004.
JC's Peggy and Sweet Pea
JC Dill heard about the r.a.c.s pet gallery from Sherwood Harrington, who suggested she submit photos. I'm always happy to add new species to our menagerie!
Peggy meets Sweet Pea
Peggy meets Sweet Pea, a 4 day old miniature horse colt. Sweet Pea is just 4.3 hands tall and weighs about 20 lbs,while Peggy is 18.2 hands tall and weighs 2020 lbs!

sweet pea
Peggy is JC's horse. Sweet Pea is a friend of the family.
Jim Ellwanger's Baby Face
Shelter cats are my favourites, next only to the people who choose them.
chessie
Butter would not melt in this sweetheart's mouth. Jim's "one and only pet, Chessie, who was adopted from the Glendale (California)Humane Society in January 2000."

chessie
Another vote for BirdTV, choice of intelligent r.a.c.s. cats everywhere.

chessie
Since we had a picture of Chessie watching BirdTV, Jim thought he'd send along this picture of her watching the real thing.

"I don't know why she was interested in this baseball game...it didn't involve any Orioles, Cardinals, or Blue Jays."

x

chessie
In April of 2009, Jim had to make the difficult and sad decision to put Chessie to sleep after the vet discovered that there was a very large tumor in her jaw.

"Attached," Jim writes, "is one last photo you can add to the page. I got an Apple Time Capsule" (a file backup system) "last year, and Chessie took to lying in this position, with her front end on the printer tray and her rear end on the Time Capsule -- turned out to be quite an expensive butt warmer."

This sweet girl will be sorely missed.

x
Joseph's Free-Agent Gekko
When Joseph asked if he could send along a picture of one of the geckos roaming around his home, I said I'd be shattered if he didn't. Aren't you glad he did?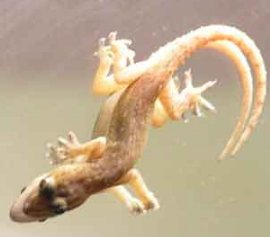 gecko
"I'm living and working in Singapore, which means there's a lot of nature abounding... The geckos ... while I don't try to keep them as pets, do wander around, and there's always at least two or three if I go looking for them. They come in various sizes, from ones barely big enough to cover a nickel to ones the size of my hand. For the most part they don't get too close to me, but one did jump down and run across my computer's keyboard as I was watching one of the scenes with Randall in ``Monsters, Inc'', so you have to admire their timing. This one was about four inches long, and I noticed him on the bathroom mirror.
Jym Dyer's Kitten Kaboodle
=v= One of our favourite resident eccentrics *would* be a collector of cats, wouldn't he?
chloe
"Chloe...is extremely friendly, and will start purring after she sits down next to you, even if you do not pet her. She adores being petted, though. She is the least active of our cats and is often harassed by Flame. She likes getting into boxes, probably to feel safer from attack. She cries a lot for no apparent reason. She does not seem to be very intelligent, but she is not as stupid as many people make her out to be, and she's extremely sweet."

death
"When we adopted Death and Chloe (together) from the SPCA, he was named 'Rascal' and Chloe was 'Chloe'. Dan and I each got to name one of the cats. I liked the name 'Chloe'. Dan liked the name 'Death'... Neither of us liked 'Rascal'... He has brought home one dead bird and one live bird, and left at least three dead birds for the upstairs neighbor. This prompted said neighbor to leave us a note headed "Your Cat is a KILLER!" and to block off the stairs so that Death cannot reach his porch. Death is almost an ideal cat, but he has two bad habits. First, he licks the window shade, which sounds very odd and is annoying. Second, he likes to knock over glasses and vases full of water. Unlike the other cats, he enjoys being squirted with the water pistol."

jackson
"Jackson was the largest of 4 black kittens found in an abandoned car in Omaha, Nebraska. A rescuer brought the kittens downtown, where we met them and also met a remarkable woman named Connie. She nursed the kittens back to health and socialized them well, before handing them over to us. The largest kitten was also the most gregarious, so he needed a name. Connie and her son named him after the location where we'd all met: Jackson Street."

sigh
"Sigh was born in Fremont, California. One day I was walking home, and her whole litter started following me. Her siblings gave up rather quickly, but Sigh had the good judgment to follow me all the way home, almost a whole mile. I only helped her across the street once. She was such a little bitty thing, and I could hold her in one hand. She quickly exhibited a fondness for burrowing into things...before she grew to be too big for my britches, she was especially fond of hanging out in my overalls..."

Sadly, Sigh passed away on April 11, 2004.
She will be deeply missed.
Jym and Nina's Necessary Nonsense
The intrepid r.a.c.s gallery team has obtained EXCLUSIVE photographs of two individuals well-known in comic strip circles in the possession and care of CONTRABAND BABY CHICKS which have been liberated by the Baby Chick Underground Railroad. These photos were taken at an undisclosed location and the future destination of the chicks is, likewise, closely-guarded information within the BCUR.
EXCLUSIVE! jym and chicks
Jym Dyer with one of the rescued chicks, the first of a wave of such genetically-modified chicks being bred by nefarious fast-food interests to have three drumsticks. Shame!

EXCLUSIVE! nina and chicks
Internationally renowned and respected comic strip artist Nina Paley, whose idealism led her to the very edge of darkness in her quest to rescue cute fuzzy yellow things. Can she ever live an ordinary life again?
(some comics-related, most not, all interesting) A Word In Your Ear - Rob Wynne 's blog
Anthony's Annotations - Anthony D.'s blog
April's Real Blog - Belphoebe's blog
Baseball-Related Program Activities - Jim Ellwanger's baseball blog
Confessions of a Bunny Hugger - Heather's blog
Creek Running North - Chris Clarke's blog
dagbrown - Dave Brown's blog
Dain Bramage - Dann's blog
Emerald City - Paige's blog
faynights - Chris and Laura Brown's blog
Golbanamaniarta! - Jim Ellwanger's blog
The Hit Parade - Chris Brown's blog
J.C. Dill - J.C. Dill's blog
manitoons - Jackilope 's blog
"Mom's Cancer" - Brian Fies' blog
The Nellie Blog - Mike Peterson's blog
Nitpicking: the Blog - Carl Fink's blog
Peter B. Steiger's Hastily Assembled Web Page - Links to Peter Steiger's collection of family anecdotes and musings
SC Universalist: a working history - Steven R's blog
Serenepia - Andrew Ryan Chang's blog


Jump to page 2
head to
ronnie's homepage